Wind has always been dangerous where heavy equipment is operated. Not only are there life-and-death safety concerns, but wind speed and direction can also contribute to rendering machinery inefficient.
That's why Bigfoot Crane has been working closely with NAVIS Elektronika, a world leader in anemometers.
Together, the two companies have developed the latest technology in wind monitoring for customers who depend on it to keep workers and workplaces safe and efficient.
For the past three years, as NAVIS' exclusive partner in North America, Bigfoot has been delivering increased safety and peace of mind to customers from British Columbia to Florida. Our NAVIS products have become essential tools on some of the most challenging job sites in several industries.
NAVIS' passion for improving those products recently catapulted wind monitoring to the next level: the ability to monitor sensors from anywhere on earth via the internet.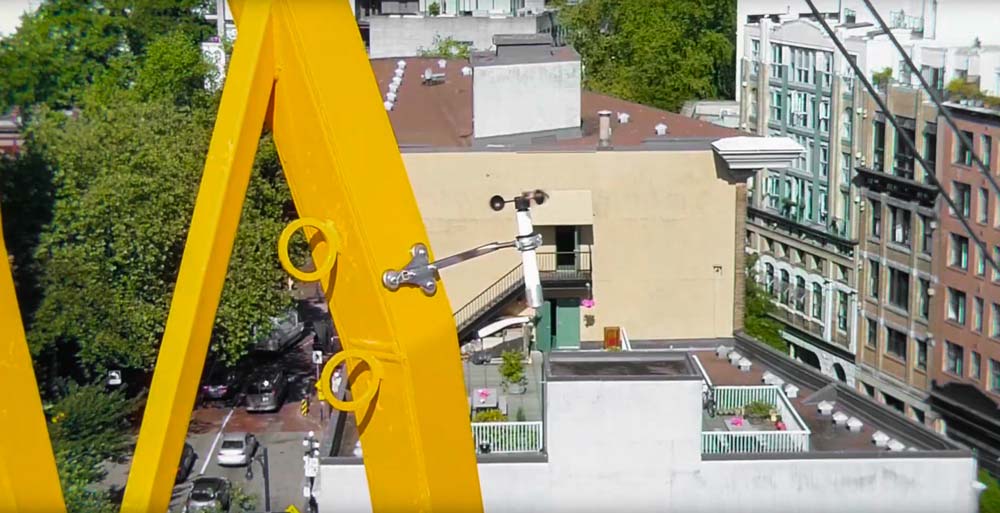 It Started with Cranes
Bigfoot Crane's primary interest in anemometers has been to ensure safety. Crane operators need to monitor wind speeds in real time so they can abide by the rules and take precautions.
"There are regulations," said Clayton Loiselle, inside sales at Bigfoot, who has been selling NAVIS products for years. "If you're operating construction hoists and wind speeds exceed 60 kilometers an hour, you have to shut down. If you're running a tower crane, it's 50 kilometers."
For example, Phoenix Fabricators and Erectors (Indiana, USA) were lifting a massive water tank in limited space next to a high school (view the case study here), so wind monitoring was essential. "On lift day, we relied solely on the NAVIS system," said engineer Kurt Fuller. "It was the deciding factor for us, and it performed perfectly."
For safety and productivity, Bigfoot has been putting NAVIS anemometers into the hands of as many crane operators and owners as possible, and everyone loves them.
When Ryan Burton, managing director of Bigfoot, tested the NAVIS system, he could hardly believe that it was so reliable, simple, and affordable.
"We knew immediately that this was a game changer," said  Burton. "There was clearly nothing better. For the safety and benefit of crane operators, I wanted to get these systems in circulation. So we asked NAVIS if Bigfoot could be its exclusive partner in North America. They said yes, and we went to work together."
Gerry Wiebe, marketing manager at Bigfoot, said, "When we found NAVIS, no other company could compete. Their products are that good, and they keep getting better."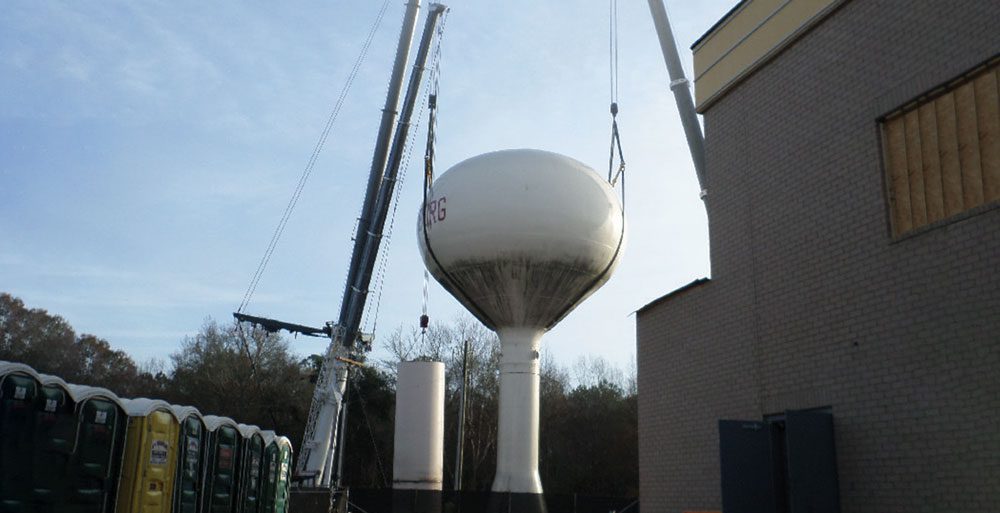 Simple, Standard Systems
NAVIS' systems are affordable, easy to use, and accurate. Every system has two basic components: a sensor and a display.
"The sensor goes where the wind is, which is sometimes pretty hard to access," said Loiselle, "but installation has never been easier."
NAVIS and Bigfoot's wireless sensors can be assembled and installed in seconds, thanks to a magnetic bracket. All sensors come with an optional attachment to gauge wind direction. The basic wireless sensor is compatible with any NAVIS display.
The variety comes mostly through different displays. After years of fine tuning, NAVIS displays offer options that make work easier and cater to particular needs.
Responsive, Agile Development
Every innovation has come from customer feedback. Whether it's a hard-wired electrical connection, battery power, or some specific option, NAVIS can do it.
If you prefer to monitor data on a smartphone or tablet, that option is available through a Bluetooth connection. The app is free and easy to use. If a site prohibits smartphones, NAVIS has displays with radio connections.
Bigfoot now offers at least five NAVIS systems to meet the varied needs of customers in construction and other industries.
"As we worked with NAVIS to develop anemometers for cranes," said Loiselle, "we realized the units are also useful for wind farms, film crews, artillery experts, sports stadiums, fountain displays, and even factories with smoke stacks — anyone affected by wind."
Crane operators need immediate wind data so they can shut down their equipment as winds reach dangerous speeds. Other clients, like wind farms, need to study wind patterns over time in order to prepare proposals. That's why different NAVIS systems from Bigfoot cater to the different needs.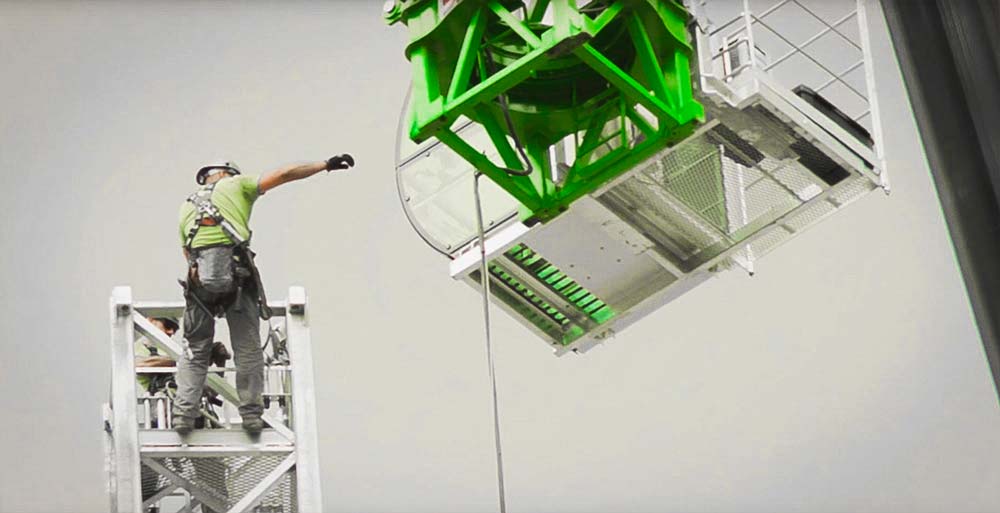 Some displays have simple audio and visual alarms. Others can be programmed to shut off machinery or trigger an adaption.
For example, when the NAVIS system at a coal-burning factory in Saskatchewan detects that the wind is sending emissions toward the nearby town, it immediately triggers the factory to switch to cleaner-burning natural gas.
If the factory needed to produce a report on how often the wind triggered that action, the NAVIS system could record the data onto an SD card for downloading into a computer as a CSV file.
In the past year, NAVIS and Bigfoot added a new and important feature to the list…
Remote Real-Time Monitoring
Until late 2019, wind data was accessible only on site with NAVIS products. The sensor and display needed to be within range of a radio signal or Bluetooth connection.
The data could be logged, saved, and shared, but you couldn't access it immediately from elsewhere. Then customers who had their safety officers in remote locations or who wanted to monitor multiple locations asked for a solution.
When NAVIS released its W410-XL in late 2019, it changed the game for wind safety.
"The XL does it all," said Gerry Wiebe. "It has the sensor, display, smartphone capability, SD card storage, and now internet connectivity."
Loiselle agreed, "They've made it so easy. An internet connection sends all the data to navis-livedata.com, and you can access your account from anywhere in the world at any time."
Loiselle also said, "For a safety and study tool like this, it's incredibly affordable."
According to Wiebe, "It was already an award-winning system. Now, the internet connectivity takes it to a whole new playing field. The best system just got better."
**This article was previously published in Crane Hotline, October 2020.
https://bigfootcrane.com/wp-content/uploads/2023/03/img2.jpg
513
1000
Mark Klassen
https://bigfootcrane.com/wp-content/uploads/2018/11/bigfoot-logo-98.png
Mark Klassen
2023-03-01 11:26:23
2023-06-07 16:12:59
Bigfoot and NAVIS: Wind Safety with Internet Connectivity