The Bigfoot Crane Company Just had Twins!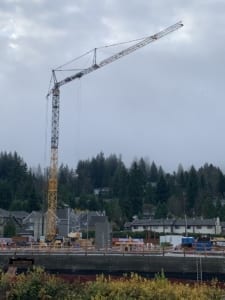 We are pleased to announce the addition of two new cranes to our fleet! Bigfoot has just acquired two of Liebherr's 81 K.1 Fast-Erect self-erecting tower cranes. These cranes have been carefully selected to meet the growing demand of the mid-rise building industry, which is expected to boom under the new Tall Wood Initiative in BC.
This new code was instated in BC earlier this year and will be included in the new National Building Codes rolling out in 2020. Click here to learn more about the new Tall Wood Initiative in BC and which regions it affects.
The 81 K.1 tower cranes are highly versatile and are ideal for constricted sites that require high manoeuvrability. To avoid obstacles, the luffing jib can be positioned at a 45° angle, and its compact footprint allows it to fit into almost any space a site requires.
They can be quickly mobilized and demobilized without additional equipment, and can be operated from the external cabin, which also requires no additional equipment to install. The Load Plus feature also allows operators to hoist up to 20% more weight by reducing driving unit speeds.
Technical spec highlights of the 81 K.1 include:
• Max. lifting capacity: 6,000 kg
• Max. hook height: 40.4 meters
• Max. radius: 48 meters
• Max. lifting capacity at max. radius: 1,350 kg
• Lines: 2
• Luffed jib position: 30°
• Jib position to avoid obstacles: 45°
• Slewing radius: 2.75 meters
At Bigfoot, we are dedicated to building a fleet and customer service program that helps you take everything in stride. No matter how the industry evolves, we will always work with you to find the best solution for your site. We are consistently striving to provide the best in equipment, accessories, and training to keep your team safe and efficient. For inquiries about our tower crane fleet, accessories, or training academy, call us toll-free at 1-877-740-6590 and talk to an expert today.